Drop + The Lord of the Rings Elvish: One-minute review
To paraphrase Tolkien, mech keebs are found in unlikely places. But, Drop isn't one of those places. On the contrary, the brand has made quite a name for itself producing and selling enthusiasts mechanical keyboards and modding parts (along with audiophile headphones). It's become one of my go-to websites whenever I'm jonesing for a keyboard fix.
At this point, anything that comes out of Drop is almost a guaranteed ace, including the subject of this review: the Drop + The Lord of the Rings Elvish (opens in new tab), one of the five officially licensed LOTR keyboards the brand has on offer. This one's a stunner too. It's probably the fairest of all these keebs, with its green and ivory colorway, the beautiful "faithfully-translated" Tengwar legends (I'm no Tengwar script expert so I cannot confirm their accuracy) on its keycaps, and the elegantly-etched trees of Valinor framing its arrow keys.
The Drop + The Lord of the Rings Elvish is also incredibly comfortable to type on, thanks to those Holy Panda X switches that Drop co-designed with Gateron and are one of the brand's best switches. Drop pairs of those with its Phantom stabilizers to round out its satisfying tactile feel.
So, while it looks every inch a fancy keyboard an Instagram influencer would show off on their posts, it's also incredibly utilitarian, which makes it one of the best keyboards on the shelves. It's just the thing to spruce up your office setup and see you through those long days of typing up documents – especially because it's clicky but not as loud as other clicky keyboards.
Drop + The Lord of the Rings Elvish: Price and availability
How much does it cost? $199 (about £160.91 / AU$283.44)
When is it available? Available now
Where can you get it? Available in the US, the UK, and Australia
Drop + The Lord of the Rings Elvish: SPECS
Layouts: TKL
Switches: Holy Panda X
Programmable keys: No
Dimensions: about 355 x 132 x 17mm
RGB or backlighting: Yes, white backlighting
The Drop + The Lord of the Rings Elvish isn't cheap. But then again, top-quality mechanical keyboards have never been. If you want it, you'll have to shell out $199 (about £160 / AU$280). You're not paying for just its performance, after all. At the time of writing, however, Drop has it listed at $169, giving you a $30 discount.
That puts it in the same price range as other enthusiast keyboards like the KiiBOOM Phantom 81 ($159 / £128 / AU$233) and slightly cheaper than premium ones like the Lofree 1% Transparent ($219 / £181 / about AU$320). There are cheaper mech keyboards out there if you're on a budget. Keychron (opens in new tab) has a few on offer for under $100 / £100, and they're pretty fantastic as well. Just bear in mind that Keychron's offerings are simpler and more restrained, design-wise.
Drop does ship to the UK and Australia so you'll be able to order this keyboard if you're in these regions, as long as you're ok with longer shipping times. Apparently, it could take 2 to 4 weeks from the date of shipping.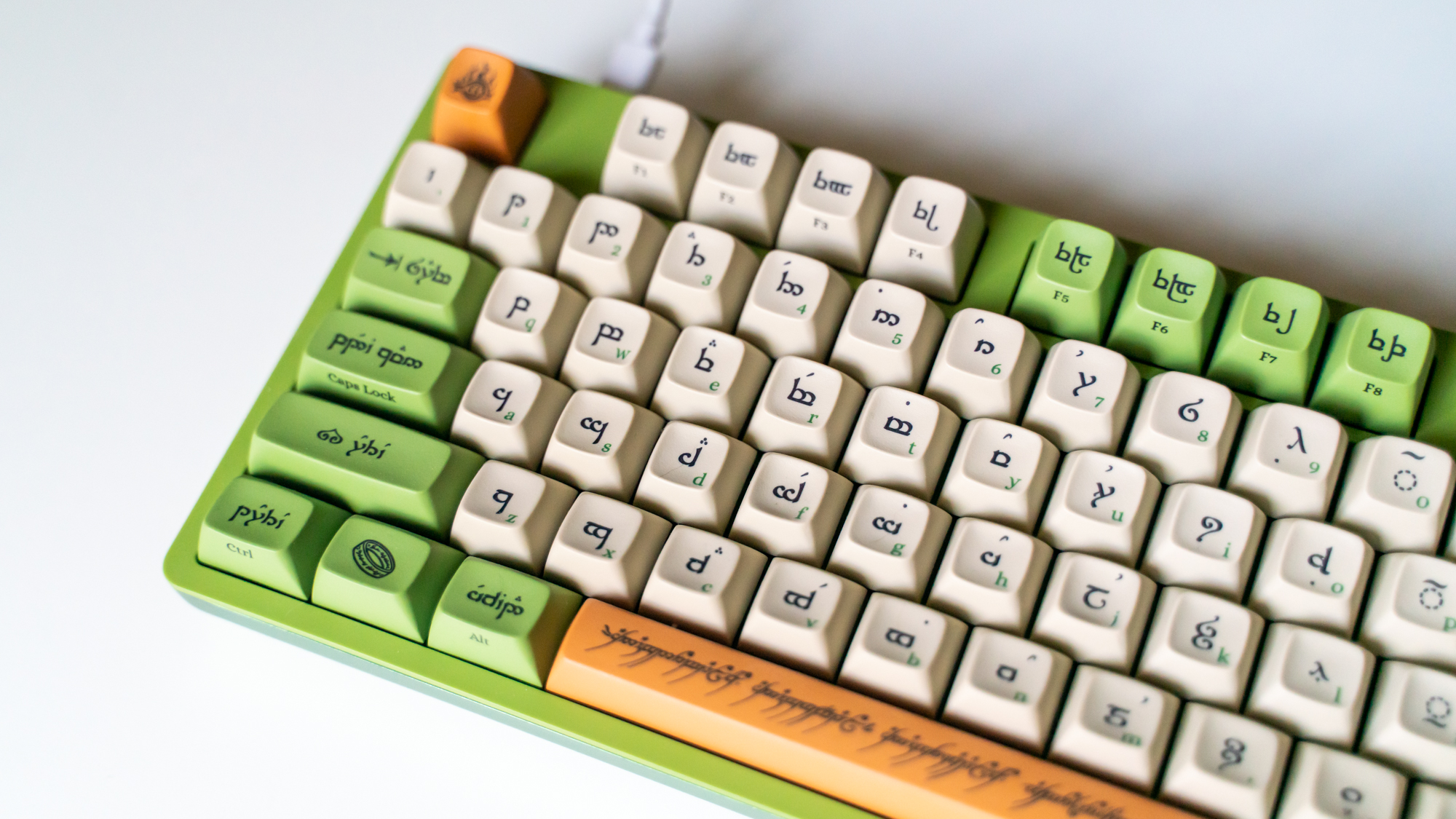 Drop + The Lord of the Rings Elvish: Design
Robust build and stunning LOTR details
Comes with a small mod kit
White backlighting only
The Drop + The Lord of the Rings Elvish's build quality is undeniably robust, its premium aluminum and plastic case feels like it could withstand a lot of abuse. If you want to, say, stuff it in a suitcase and take it on a year-long trip around the world or take it with you on your daily commutes, it feels strong enough to survive.
This isn't a travel-friendly keyboard, however. It's got a bit of weight to it, and being a TKL one, it isn't that compact either. It's really more of a nestled-in-your-home-desk-setup keyboard, especially with the adornment on it.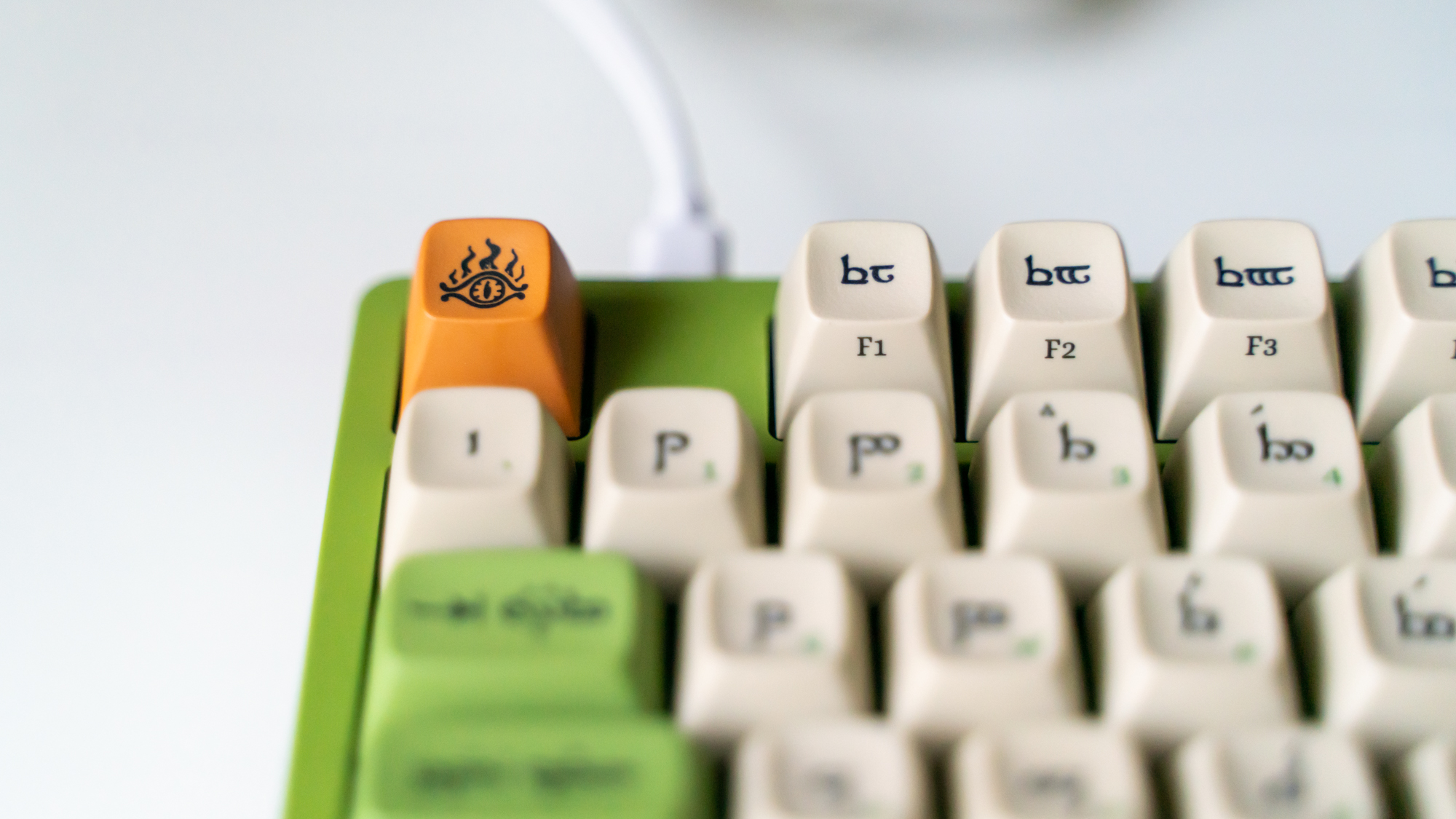 Drop clearly took the LOTR theme and ran with it. This keyboard is bedecked with Tengwar legends, elegant green and ivory keycaps, Sindarin phrases, and popular LOTR icons like the shards of Narsil, the Ring of Power, and the Eye of Sauron. The brand claims that the Tengwar legends on the keycaps are faithfully translated, but as I'm no Tengwar master and there seem to be different ways to write the English alphabet in Tengwar, I'll have to take Drop's word for it.
Don't worry if you often look at your keycaps to make sure you're about to press the right one. The keycaps from both kits come with their Latin alpha sublegends and Latin modifier legends as well.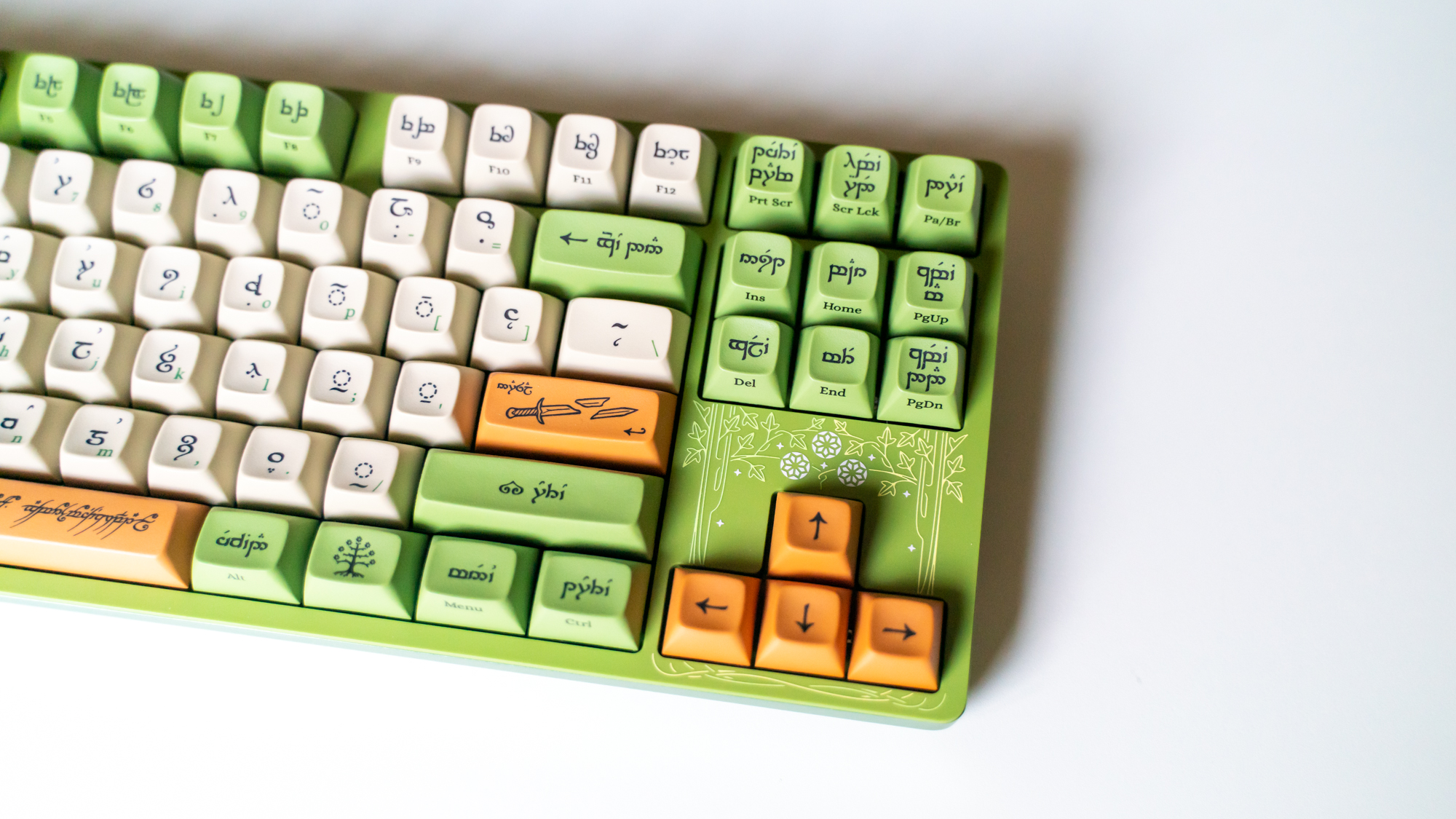 To add even more flair, Drop commissioned artist OSHETART to create a custom artwork depicting the Two Trees of Valinor, which frames the arrow keys on the keyboard. It's a nice touch, adding a touch of beauty to the keeb and counterbalancing the menacing Eye of Sauron and Ring of Power keycaps.
The Drop + The Lord of the Rings Elvish clearly comes with the Lord of the Rings Elvish Keycap Set, which you can also purchase as an add-on if you want one of the other LOTR keyboards, but you also get some orange keycaps from the Training Elvish Base Kit. That includes the orange spacebar keycap that boasts the One Ring inscription: "One Ring to rule them all, One Ring to find them, One Ring to bring them all and in the darkness bind them."
You also get a keycap puller so you can easily switch things up. There's a USB-A to USB-C cable included too, though it's just a regular cable. If you want a nice coiled one, Drop does have a few on offer, but they're not LOTR-themed, and will cost you extra.
Sadly, you won't be able to swap out the switches as they are soldered. RGB fans might also be disappointed to find that there's only white backlighting here, but honestly, it keeps the whole thing elegant. If you want RGB lighting, there are other options.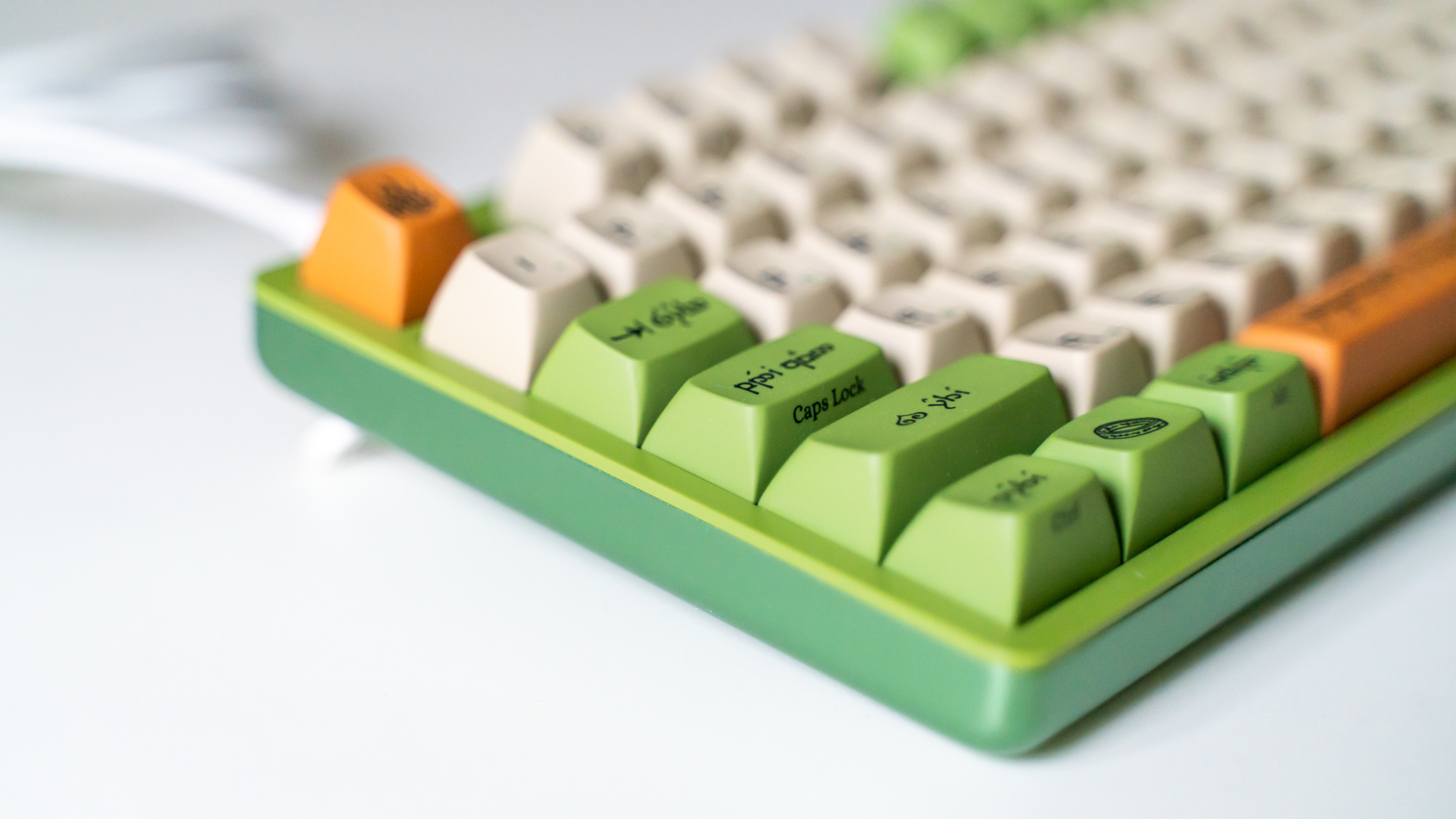 Drop + The Lord of the Rings Elvish: Performance
Keys are smaller but are concave
Holy Panda X switches are satisfying with a small bump
Clacky sound that's not too loud
The first thing you'll likely notice about the Drop + The Lord of the Rings Elvish when you position your fingers on the keys is how small they feel. The keycaps are tapered so they are smaller around the top, which might feel a little weird for those with bigger fingers, but Drop tries to thwart finger slippage by giving the keycaps a deeper dip, which I find does help keep your fingers in place.
Because they are smaller, however, it takes some getting used to, especially if you're reaching for the arrow keys. Don't worry; it didn't take me long to get used to them, and I imagine most people would feel the same.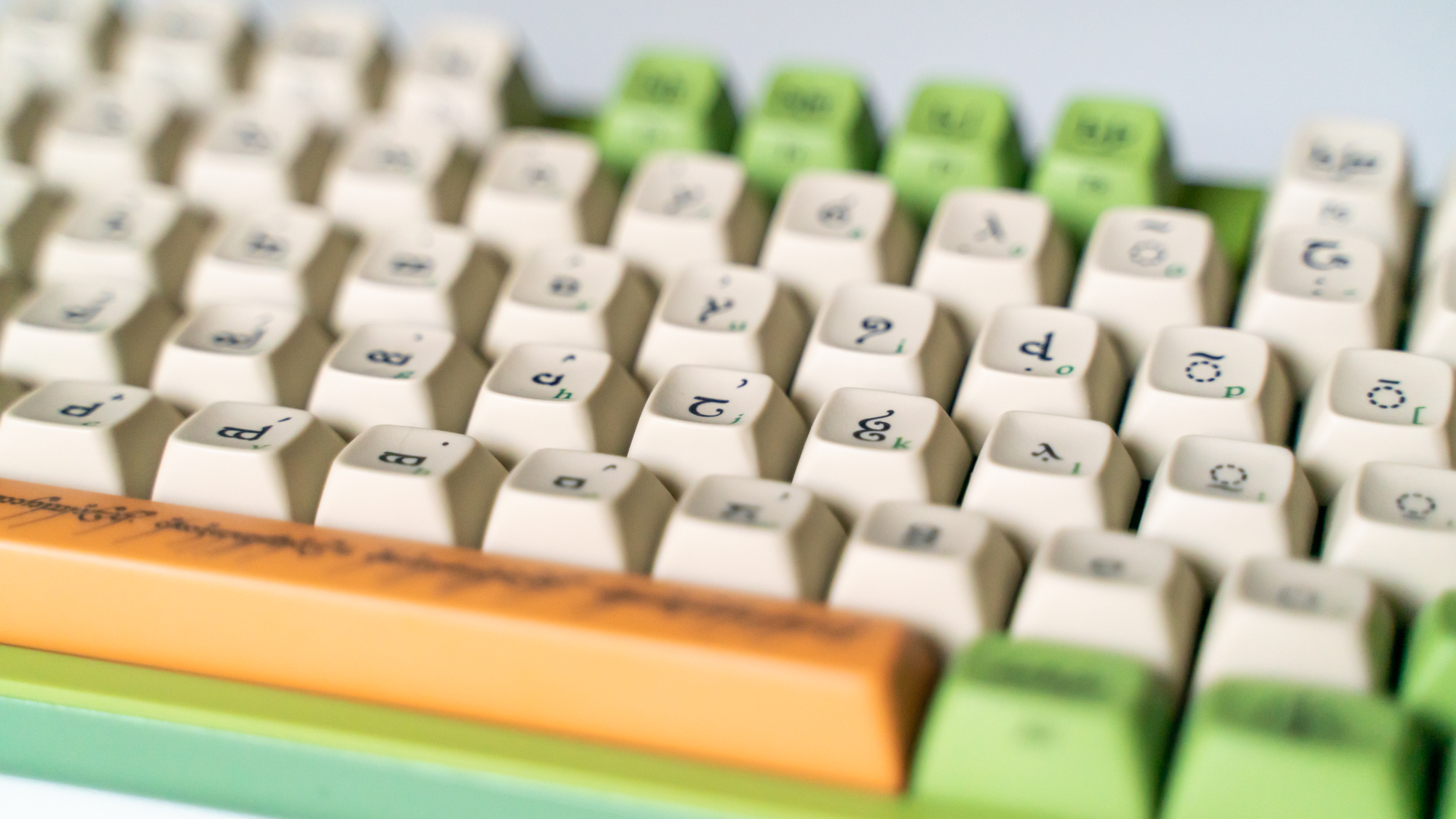 Drop fitted the Drop + The Lord of the Rings Elvish with its much-lauded Holy Panda X switches, which it co-designed with Gateron. The company essentially took two switches (the Invyr Panda Linear switch and the Drop Halo switch) and combined their parts for a superior switch with reduced stem wobble and improved consistency. To prevent further wobbling, Drop has also fitted it with its own Phantom Stabilizers.
The result is a smooth and stable tactile switch that's proven during my testing to be very consistent and very satisfying to type on, with a nice small bump on every keystroke. I'm currently in my linear phase, but I honestly love typing on this keyboard, thanks in large part to its bottom actuation. I also currently prefer the thick sound, but I don't mind the clacky sound of this keyboard at all, especially because it isn't too loud.
Should I buy the Drop + The Lord of the Rings Elvish?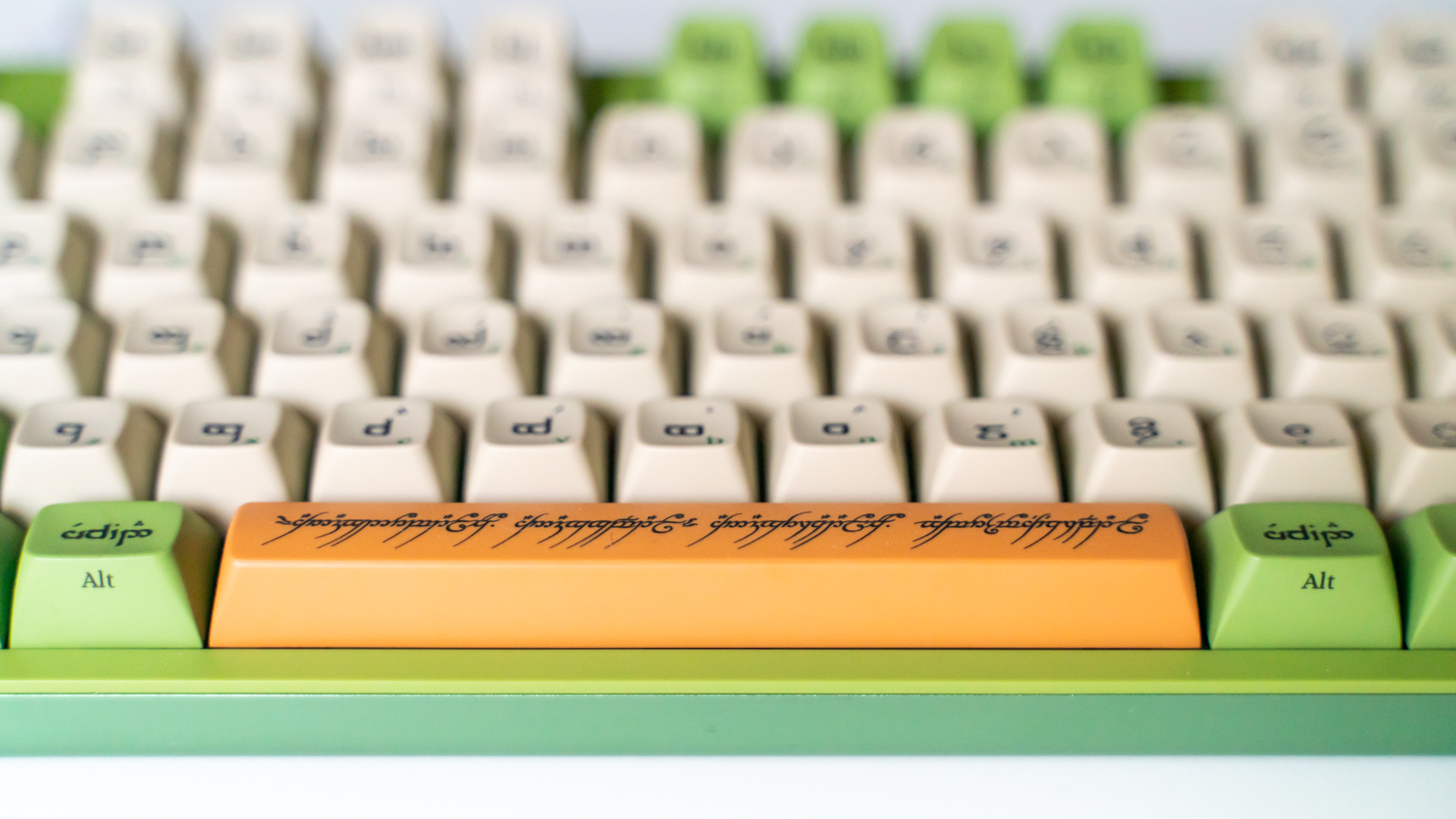 Buy it if…
Don't buy it if…
Also consider
Swipe to scroll horizontally
| | Drop + The Lord of the Rings Elvish | KiiBOOM Phantom 81 | Lofree 1% Transparent |
| --- | --- | --- | --- |
| Prices: | $199 (about £160 / AU$280) | $159 / £128 / AU$233 | $219 / £181 (about AU$320) |
| Layouts: | TKL | 75% | 65% |
| Interfaces: | Wired | Wired, USB 2.4GHz, Bluetooth 5.0 | Bluetooth 5.1, USB-C |
| Type of switch: | Holy Panda X mechanical | KiiBOOM pre-lubed Crystal mechanical | Pre-lubed Kailh Jellyfish mechanical |
| Programmable keys: | No | Custom key programming, macro function mapping | No |
| Hot-swappable: | No | Yes | No |
| Weight: | 2.05 lbs | 3.25 pounds | 1.79 pounds |
| Dimensions: | 355 x 132 x 17mm | 330 x 150 x 35mm | 306 x 144 x 30.6mm |
If our Drop + The Lord of the Rings Elvish review has you considering other options, here are two more mechanical keyboards to consider…
Drop + The Lord of the Rings Elvish: Report card
Swipe to scroll horizontally
| | | |
| --- | --- | --- |
| Value | It's not the cheapest, but you're getting a top-quality mech keyboard with a gorgeous design. | 3.5/5 |
| Design | This is a robust mechanical keyboard with gorgeous LOTR-details and a small mod kit included. | 5/5 |
| performance | It's an excellent keyboard that handles smoothly and is consistent. It's also very satisfying to type on. | 5/5 |
| Total | Overall, this mechanical keyboard is excellent inside and out. It's actually worth saving up for, especially if you're a LOTR fan. | 4.5/5 |
First reviewed January 2023
How I tested the Drop + The Lord of the Rings Elvish
To properly test the Drop + The Lord of the Rings Elvish, I used it as my main keyboard every day for two weeks to compose all my work emails as well as write my articles and buying guide updates. While it isn't marketed as a gaming keyboard, I did use it on a couple of short gaming sessions as well, just to see if it can keep up with more rigorous use.
We pride ourselves on our independence and our rigorous review-testing process, offering up long-term attention to the products we review and making sure our reviews are updated and maintained – regardless of when a device was released, if you can still buy it, it's on our radar.
Read more about how we test